Rabbit Awareness Week (RAW)
10th Aug 2020

As part of Rabbit Awareness Week 2020 (10th August - 23rd August) we want to share with you some helpful tips to help keep your rabbit heathy and happy!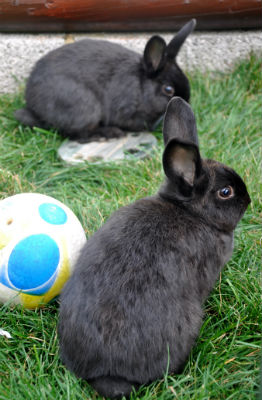 Download your Care Guide here.
In this document you will find a 'Better Bunnies Programme centre fold pull out!'

Every year Rabbit Awareness Week brings a nation of bunny lovers together to celebrate these fantastic animals. Despite being the UK's third most popular pet many rabbits are neglected and are given the incorrect diet, unsuitable housing and no companionship. We hope that the Better Bunnies Programme will incentivise bunny owners to step up and make changes so they give their bunnies' a better and happier lifestyle.Tag @burgesspetcare to show us your efforts put in to the Better Bunnies Programme. Use the hashtag #BunnyBalance on instagram to be in with a chance of winning a Burgess Excel goodie bag!
Bunny behaviour
Bonnie is seen here having a really good dig and this is something rabbits love to do and is part of their natural behaviour. When preparing your rabbit's home you need to think about tunnelling and whether your rabbit will be able to dig down safely without escaping.


Good luck and check back soon for more updates!