Support Little Ruth with sponsorship
1st Jul 2020

1st July 2020

By becoming a sponsor of the Wingletang Rescue and Rehoming Centre you will help rescue animals like little Ruth.

Little Ruth (as we have called her, and approximately 2-3 years old) was found looking very lost on Dartmoor this month.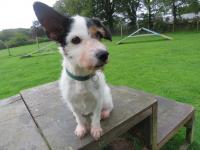 As soon as we picked her up, we realised that she was in a lot of discomfort with her ear. Her head was on one side, she was continually head shaking and her ear was double the size of her other ear due to what we thought to be a haematoma. This meant that the blood that collects between the cartilage and skin of the earflap is there because of a burst blood vessel.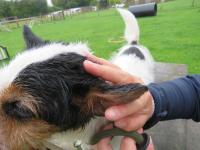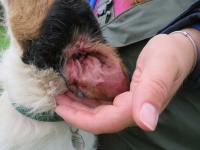 This can occur if the dog scratches the ear excessively or shakes the head, often as a response to an untreated ear infection, such as ear mites. It can also occur as a result of trauma to the ear, but looking into Ruth's ears, we could see that she very dirty inflamed ears, and we assumed infected. We brought her back to the centre and immediately scanned for a microchip, but sadly she was not on the identichip system. Whilst this condition is not classed as life threatening, we felt her welfare was being compromised, because of the extreme discomfort she was in, so we took her to Westmoor Veterinary Hospital so that the haematoma could be drained. By the next day, the ear was the same size, so again, we took her back to our vets to be re-drained.
Over the course of the week, the ear started to double in size again, so we felt that the only action we could take was surgery, as the haematoma itself won't burst as the pressure of the fluid build-up prevents further bleeding and the blood in the haematoma becomes clotted, which can be very painful. We really wanted little Ruth to be able to live a comfortable and happy life.
Even in these uncertain times, the welfare of the animals in our care is top priority.
Ruth's surgery was booked to remove the haematoma, prevent recurrence, and retain the natural appearance of her ear. A long incision is made over the haematoma and the area flushed. Placing a series of sutures (stitches) obliterates the space where the blood accumulated.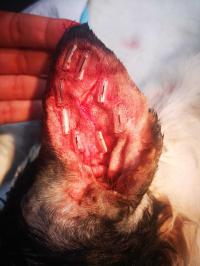 If left untreated, an aural haematoma may eventually resolve by itself, but the ear becomes misshapen (just like the 'cauliflower ear'), and the underlying reason for the haematoma is not addressed, leading to further trauma and damage to the ear, as well as considerable pain for poor Ruth.
Yesterday, little Ruth underwent this operation and am happy to report, she is back safe and well and most importantly pain free!
Can you become a sponsor of the Wingletang Centre? To help make sure we are able to be there for dogs like Little Ruth. Her surgery cost over £300 and so anyone that can sponsor the centre will be helping towards Ruths surgery costs.
Just £5 a month makes a huge difference to the lives of animals in our care.
Download a form by click here or we can send a form in the post, all you need to do is email: comms@mgar.org.uk
On receipt of your first payment you will receive a letter and certificate along with the option of a plaque with wording of your choice at your selected centre. You will also receive twice yearly updates in April and October so you can see how your donation has helped the rescue animals at your chosen centre.

When filling in your payment details please remember to read the Gift Aid declaration and tick the box and sign if you are a UK Taxpayer as this gives us an extra 25p for every £1 and really does help us. It is at no extra cost to you, we can claim back 25p from the government, so please tick the box
This package makes a great gift too so, why not buy one for a fellow animal lover?