Sand School Success
22nd Feb 2021

22nd February 2021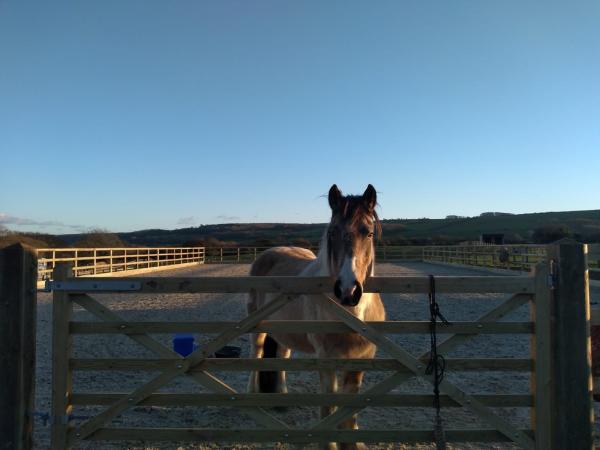 This week we are celebrating the use of our new sand school at our Church Knowle Centre after receiving £15,000 from Animal Friends Pet Insurance and £8,000 from Petplan.
Prior to the funding, the sand school needed to be 'patched up' with sections fenced off and insufficient drainage that had been installed many years ago. This meant that we could not utilise the space in the best way for the horses in our care.
Over the past few years, we have seen many people take on horses thinking that they will be able to sell or rehome them if things do not work out but often this is not the case. Most people are unaware of how many horses there are needing homes and it can make rehoming horses incredibly difficult, especially if it is older or has health or behavioural issues. We set out to fund the sand school so that we could do our best to help with the crisis.
The sand school surface needed removing and repairing, the drainage underneath needed updating and new fencing was needed all around the school. The majority of the horses that we rescue have outstanding and often long-running health and/or behavioural issues and the sand school would give them a safe, contained space to begin work and recovery.
In 2020 we were thrilled to receive donations from Animal Friends Pet Insurance and Petplan who kindly decided to fund the project.
Now that the sand school has been completed we are enjoying its many benefits. The soft surface allows horses recovering from injury to start to exercise without concussive pressure on their feet and legs. It also allows restrictive grazing and helps manage horses' weight while allowing them to exercise freely. This is vital in managing common conditions such as laminitis.
Kate Wickins, Church Knowle Centre Manager explained "We are so thankful to receive this funding and be able to now make use of the area. It will help rescue horses like Chelsea and Brandy, two Anglo Arab Cobs, who came to us at 14 years old having spent their entire life in the same field with almost no handling. They had never worn head collars or been lead in hand, they had also not received routine veterinary checks, farriering or dental care. This is quite typical of the equines we are asked to help with. These horses needed to learn to wear head collars, be lead in hand and generally accept human handling and interaction. Chelsea has progressed very well with us and is now enjoying the new sand school after a new case of Mud Fever which is caused by a variety of bacteria that can thrive in muddy, wet conditions."
Patricia Gardiner, Chief Marketing Officer at Animal Friends, said: "Following my visit to the Centre and seeing firsthand the extensive work needed to the sand school, it was clear that we had to help. The work carried out with the horses in the sand school is vital for the process of enabling successful rehabilitation and rehoming. With the new funding, MGAR can now provide more horses with a safe space in which they can get the gentle care they need and learn how to trust once again, enabling them to find loving homes for the future. MGAR supports all kinds of animals, helping them to find forever homes and Animal Friends is proud to be able to support the incredible work they do in some small way."
Thank you so much to Animal Friends Pet Insurance and Petplan for helping the rescue horses in our care.
Want to see Chelsea enjoying the new Sand School? Click below: