Post-Pandemic Pups
12th May 2023
What happens when supply exceeds demand?
Over the years, we have been taking in dogs of all shapes and sizes, breeds and ages, and making sure they have the care, patience and love they deserve whilst they await their forever homes.
For the past few months, the number of very young and adolescent dogs arriving has been the highest we've ever seen. Just two years ago, these youngsters would have been worth a fortune to their breeders – often selling for thousands of pounds each. Now that the demand for puppies has slumped, their selling value has plummeted, and even the most fashionable, 'designer' breeds are ending up in our rescue centres.
Your donation could help us to look after abandoned puppies, like Bubbles, Bertie & Buttercup, who arrived feeling scared and overwhelmed, with nobody caring for their needs.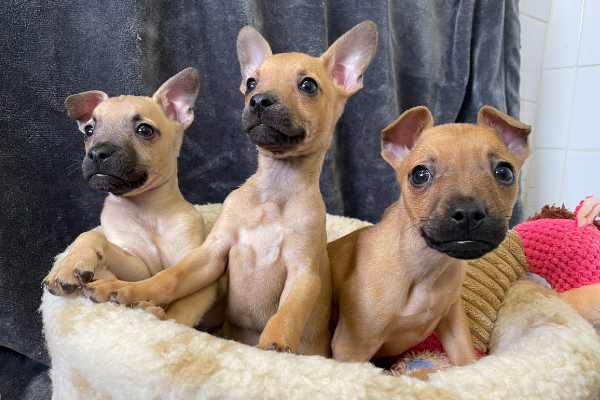 Bubbles, Bertie & Buttercup when they arrived into our care
Young, innocent, and surplus to requirements
These French Bulldog cross siblings were brought into the safety of our care after they were found huddled together in a cardboard box. At just 8 weeks old, they had been carelessly dumped in a layby – no longer carrying the high value price tags they would have had during the height of the pandemic.
Thankfully, like every animal that enters our care, what awaited them was warmth, good food and loving arms to reassure them that everything would be OK now. Our dedicated teams spent lots of time with these puppies, making sure their days were filled with play and fun, and getting to know them as the unique little individuals they are.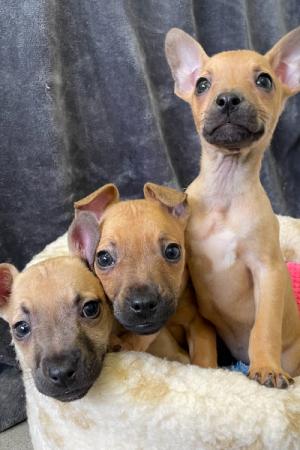 Safe at last

This used to be an uncommon situation for us, but we are now taking in young and vulnerable dogs every single week.
Schnitzel is a giant crossbreed puppy, who was found wandering alone after being abandoned at just 6 months old. We can't imagine the fear and distress this must have caused for this young, gentle giant, and the impact of being left to fend for himself must have had on him.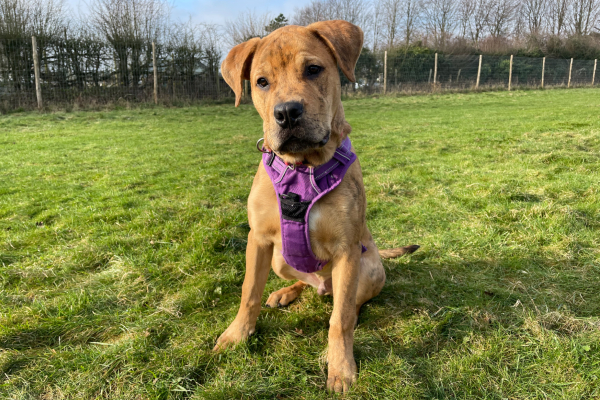 Lovely Schnitzel, finally safe from harm
No animal deserves to feel unwanted and unloved, especially one at such a tender age, when they're just starting to find their paws in the world. Even though Schnitzel was a joy to care for, it was heart-breaking to know that this poor pup had been discarded. The circumstances we've seen over the last 6 months give a strong indication that we are likely to see this situation repeating itself, as the oversaturation of the puppy market continues.
Poor little Fliss
Fliss is another beautiful French Bulldog that came into our care after being abandoned at just 12 months old. Upon arrival, it was clear that Fliss had leg and hip deformities that were preventing this lovely girl from taking part in all the exercise and play that all young dogs should enjoy.
After a visit to the vet and having an x-ray to see exactly what was going on, we discovered the ball element in both hips is facing the wrong way, which had resulted in her back leg deformities. Her knees, lower leg bones and shin bones are all twisted, and her hip deformity issue is likely to have been present from birth - a result of being bred selectively for colouring, looks and size over health, which has very sadly caused a lifelong disability for Fliss.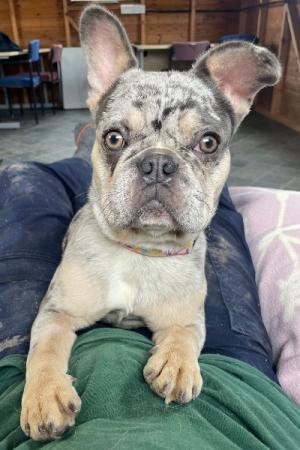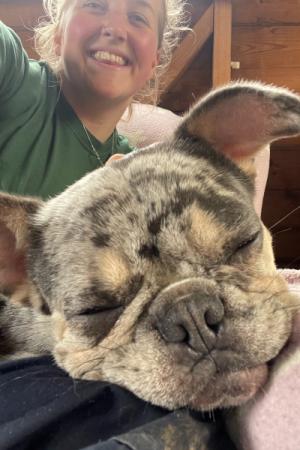 Little Fliss, receiving all the love she deserves
Remarkably, she doesn't let these deformities stop her and she still wants to be involved in all aspects of life and play. Thankfully, Fliss currently isn't in any pain as she has adapted so well, but her exercise and playtime will always need to be managed and it is likely that she will get early onset arthritis as a result of her conditions.
We are so pleased that Fliss has taken everything in her stride and continues to amaze us all with her courage and love for those around her. Sadly though, this is just another example of how dogs are being bred irresponsibly and even the most 'desirable' youngsters are ending up in our care.
Your donation will give them the start they deserve
By donating today, you will be playing an important part in helping us to provide the care and consistency that is so important for dogs during this young, developmental stage, which can influence the rest of their lives. We are committed to providing the best possible start for our rescue animals, and we are appealing to you to join us on this journey.