Outstanding Support
6th Aug 2021

6th August 2021

We want to thank everyone from the bottom of our hearts who came along and joined us for the Dog Show at our Church Knowle Centre on Sunday 1st August. It was a fantastic day and we were blown away by how busy and well supported the event was! We are incredibly grateful to all that attended and made it such a memorable event. We are thrilled to share that over £10,000 was raised from the event which will go such a long way to help the animals in our care, especially after such a challenging time for the charity.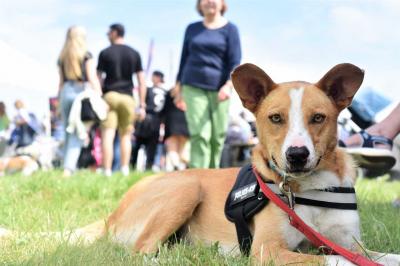 Congratulations to all our two and four-legged friends that took part in the dog classes and won prizes and rosettes, it was great to have so many dogs back onsite and to see them having such a good time. Much fun was had on our Haybale Hurdles, Dog Olympics and Have-a-go Agility, which were packed with entries and participants throughout the entire day! The Police Dog search demonstration from PD Rodney, PD Jeff (who was originally rescued from us) and TPD Loxley was also incredibly popular with the crowd and provided a great opportunity to learn about their roles in the Police Service.
The day was filled with many exciting attractions, including Liberty's Birds of Prey and bushcraft activities with Wessex Wilderness Skills. We were lucky to have two performances from Allsort'd throughout the day and local stallholders, who provided us with a fantastic range of goodies to browse and purchase. Dorset Car Club also created a great entrance to the event with a display of their vintage cars by the gates, to welcome attendees to the fun-filled event.
Our Summer Raffle, Grand Draw and Hampers were as popular as ever and we had a great time chatting to those who were queuing for tickets about the day and what classes they were entering! It was wonderful to be able to meet in-person again and say hello to all the gorgeous dogs that came along. Thank you to all the companies and organisations that donated prizes to the Summer Raffle, and congratulations to all of the lucky winners.
Luckily the weather was on our side (for once!), as we were greeted with sunny spells and only a tiny spot of rain, which made it the perfect weather to enjoy a delicious ice cream, slushie or a refreshing drink from the bar. We would like to say a huge thank you to Purbeck Coast FM for delivering the PA announcements, they created a fun and engaging atmosphere throughout the day with their music, interviews and updates on the winners.
Thank you so much to all staff, volunteers, photographers Kim and Kay, sponsors, judges, stallholders and organisations that supported us with the event. It would not have been possible without their help and they truly made this such a success.
Please find a selection of images below for you to enjoy, or visit our Facebook page here to see even more photographs from the day and tag your friends & family if you spot them!