Online Country Dog Show - revisit the event here!
Thank you to everyone who joined us over the weekend of 8th and 9th August, we hope you enjoyed our first ever online show - we did! Although the event has now clsoed you can still enjoy the content shown here up until 22nd August or if you subscribe to our YouTube channel you can watch it over and over again! Subscribe here.
The best news is that thanks to all your support we rasied over £2,800 to help our rescue animals - thank you everyone!
LIVE
15:30 – MGAR Volunteers of the Year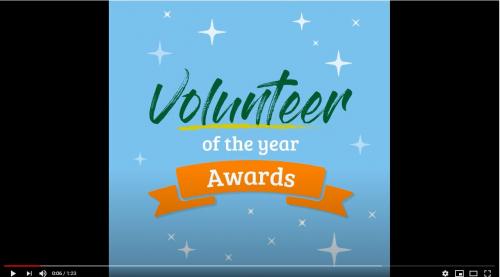 Click here to watch full video
We couldn't do what we do without the help of our fabulous volunteers and so here we celebrate our Volunteers of the Year 2020 …
The winners are:
Lincoln Farm – Amanda Hambidge
Lincoln Farm's volunteer of the year award 2020 goes to a volunteer who gives up her spare time, whatever the weather, to come and walk our rescue dogs, taking those that need respite offsite to give them extra enrichment.
Amanda has been a volunteer with Lincoln Farm since October 2014, she started walking onsite and progressed quickly to taking dog's offsite in December 2014 as the staff were so impressed with her handling skills. During that time she has built up strong bonds with quite a few of the dogs she has walked.
Over the years Amanda has helped out at lots of our events, and she also rehomed two lovely older dogs from us, Mr Jinks and Bumble. Amanda is a highly valued member of our team and always has a smile for everyone even on our sad days.
We are giving her this award in particular for all the above and also for everything else she does for us. Thank you Amanda for making such a difference.
Church Knowle – Chris Owens
Chris is a regular and dedicated cat cuddler here at Church Knowle. Chris is especially good with the quieter and shy cats, he is always very patient with the cats and helps them adjust to their new environment at their own pace. Chris also participates in volunteer gatherings and has also supported our fundraising team.
Wingletang – Mark Griffiths
He started as a volunteer in Oct 2019. In that time, he has spent 5 days a week in our rehabilitation room with some of our dogs that have come in very under socialised, Mark thinks nothing of spending 3 – 4 hours with a dog to build its trust. Obviously this stopped during lockdown, but we have now welcomed Mark back as he has been such asset to the dogs in our care.
Fundraising – Phil & Carol Cowell
We are so grateful for the help and support these two lovely people have given. Phil and Carol stepped in when we were stuck with a donation collection and since than they have now taken on four different food collection bin pickups which has helped the charity greatly. During their collection pickups they had noticed in some of our new locations that shops have been using very small bins or boxes for collections which wasn't suitable as they were getting extremely full very quickly, so they very kindly offered to made new donation bins for us and during lockdown painted them so they are all ready to go. We are so very grateful to them both and we do not know what we would have done without their help and support at such a crucial time.
Estates – Jonathan Massey
Jonathan Massey and in particular his team from J P Morgan for their outstanding contribution to our corporate volunteer program and nominate them for the volunteer of the year award.
Jonathan and his team were involved in the strip out and rebuild of our cat isolation corridor. The day started under what can only be described as dubious weather conditions. However, they turned up all prepared for the worst with wet weather gear and jovial characters. The team spent the day demolishing the old mesh corridor, which I think gave them the opportunity to swap the pen and key pad for more primitive tools in the form of hammers and hacksaws. The rest of the team carried on with the build of the frameworks which would contribute to the main corridor structure. Even splinters and the odd banged thumb didn't deter their enthusiasm. Even on one occasion going above and beyond with a job that was not planned. However, this they took in their stride.
We would also like to nominate J P Morgan for their ongoing support and endeavours for the charity which has helped greatly in being able to carry on our great work. We would however like to point out that this does not in any way deter from the great work and effort put in by all volunteers and take this opportunity to thank not only J P Morgan but also all volunteers of MGAR.
Retail – Maureen Cribb
We have nominated Maureen Cribb. Maureen has been with the shop as a volunteer since day one. Maureen has supported the charity in the shop on a weekly basis. Maureen has also been a cat cuddler for the charity. Another string to Maureen's bow is that she has picked up donations for us .Maureen is very loyal to Margaret green and will do all she can to support the charity.
Well done to you all and a huge thank you from us all!
12:00 – Welcome to our Virtual Event Experience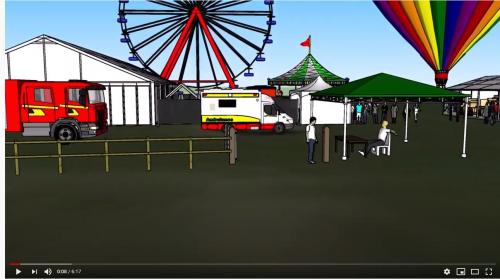 Take a look around our virtual event experience. We hope this gives you that 'event' feeling, we have included some things you would have normally seen and also some things we aspire to have for you!
Click here to watch full video
10:00 - A warm welcome from our Patron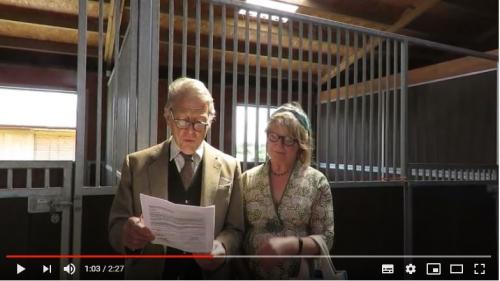 We are delighted to kick off our Online Country Dog show with a very warm welcome from our Patron OBE Edward Fox and Joanna David (Fox).
Click here to watch the full video
We are delighted to be able to bring many of the delights that you would have enjoyed at our Church Knowle Centre now online instead.
The main event will be taking place from 10:00 on the 8th and 9th August, all from your home! To see what we have instore for you, scroll down and check out the timetable.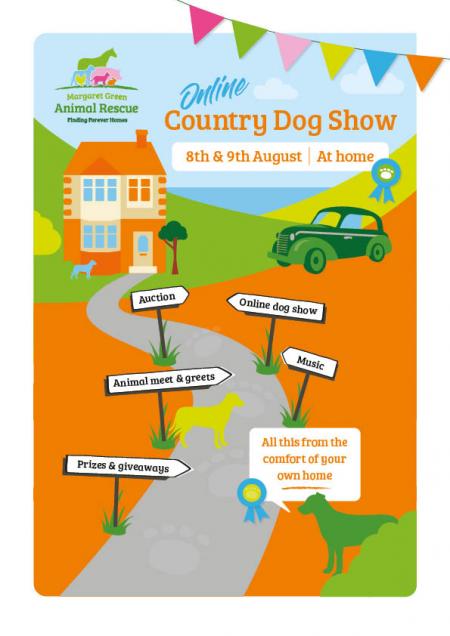 We will be sharing the online event across our social media (mainly our Facebook page) and on our website, we can't wait for you to join us online.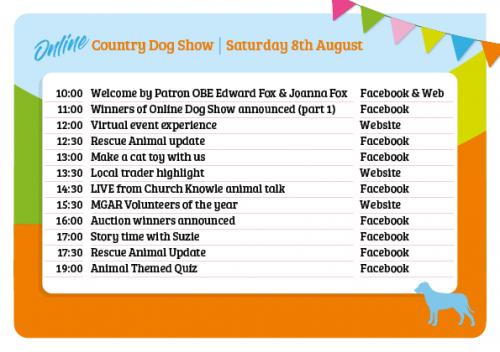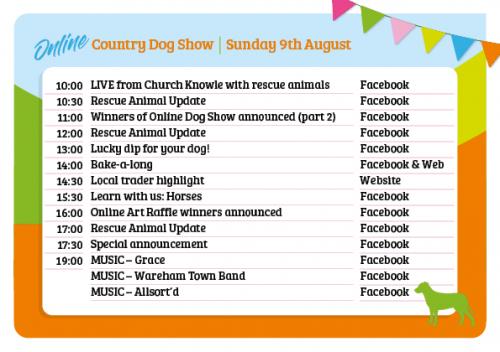 Where the timetable features 'website' this will mean to check this event page and our Business Links page.

We have already launched the Online Art Raffle! You could be in with a chance of winning an original painting by Lucy Tidbury (Lucy's Farm) simply by making a donation via our website between 04/07/2020 – 08/08/2020. She has kindly painted our rescue animals and we have four original paintings up for grabs, including Neville the pig, Brandy the horse, Apollo the goat and Vivienne the chicken! You can see the artwork by clicking here where they are currently available as cards or prints. Each painting is worth over £250, so this is such a special prize and we are so grateful to Lucy for all her support.
Good luck everyone! We will be randomly picking a winner on the 9th August 2020, which you can see in the timetable above.

We have 26 fantastic auction prizes for you to bid on. The Country Dog Show Auction 2020 is now live and you can access it here
Prizes include, a bottle of Langham Classic Cuvee 2014, a large rabbit hamper, amazing Dog Bundle and Hall and Woodhouse Vouchers.
Start your bidding now and winners will be announced live on the 8th August as part of our online event.

Colouring Competition
Win a tailored prize for your child, or yourself! Enter the colouring competition, draw your favourite rescue animal at Margaret Green Animal Rescue or draw your own pet and send your entry back by post by the 5th August 2020 to: Comms Team, Margaret Green Animal Rescue, Church Knowle, Wareham, Dorset, BH20 5NQ
Download your entry sheet by clicking here and make sure to include your details on the back so we can let you know if you have won!
Good luck everyone, we can't wait to see your designs.
Bake-a-long
Get your ingredients at the ready to join in with the great MGAR bake-a-long, to bake a luscious lemon drizzle cake, taking place at 16:00 on Sunday 9th August, click on the images below to download your PDF receipe card. There is also fruit cake that you may like to try your hand at too!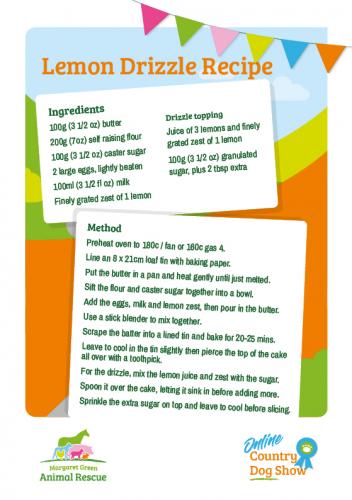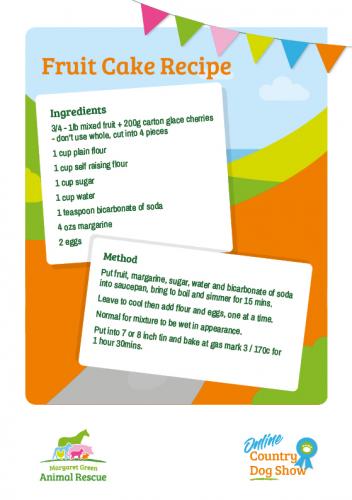 Thank you to each and every trader who continues to support our charity events. The fun days we host at our centres really wouldn't be the same without them.
Check out our wonderful traders and local businesses we had planned to bring you at the original event here.
Do not fret! You can still enjoy their delights by ordering from their website, each order from a small business is really appreciated and means you are supporting local people.
Many of our wonderful traders have donated prizes towards the Online Auction and our raffles. Thank you so much for helping rescue animals, you are all amazing!
We still have more to announce, check back shortly.