Thank you to Lucy's Farm
15th Jan 2021

15th January 2021

Lucy Tidbury, owner of Lucy's Farm has set herself the challenge to reach £2,000 for our rescue animals after raising an amazing £1,294 during 2020.

During the first lockdown Lucy dedicated her time to paint some of our rescue animals including Neville the pig, Brandy the horse, Vivienne the chicken, Apollo the goat, Philip the sheep, Sid the donkey and Alan the rabbit. Lucy had already produced designs for our charity Christmas card, so for her to go on and paint more of our rescue animals was a delightful surprise for us all.

Lucy explained "Over the last year I've painted rather a few of their furry residents to help raise money for this incredible charity in these seriously tough times. Despite everything going on these animals still get unbelievable care from all the staff and volunteers at Margaret Green Animal Rescue, but Covid has meant a lot of their usual fundraising has been lost with events cancelled and their charity shops and animal centres forced to close. So I've been doing what I know best (painting animals!) to help raise vital funds."

Although we had to cancel our events we were able to create an online event with support from local businesses, like Lucy's Farm, to raise vital funds for the animals in our care. This included an online art raffle with the original paintings by Lucy, this raised £2,000 which hugely helped towards the funds lost from cancelling the events. We have sold hundreds of Christmas cards and calendars at our charity shops all with Lucy's designs on. They have been a huge hit and it has been so wonderful to have our rescue animals feature on the designs.

The support from Lucy doesn't stop there, she has also been selling cards, prints, egg cups, tote bags and tea towels all featuring the artwork she created from our rescue animals. We are so lucky to work with such a fantastic local artist, after she rescued her adorable Springer Spaniel X Ned who came into our care in 2015. We remember Ned fondly, with his energetic personality (true spaniel style) and his love for tennis balls! He has a fantastic home with Lucy, who adores him, he really landed on his four paws - even having his own line of merchandise!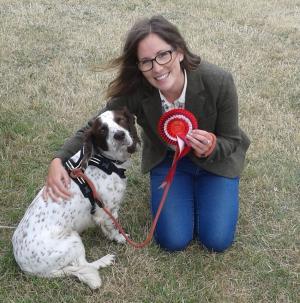 Lucy is now giving customers the chance to raise more money for animals like Ned and is hoping to reach her £2,000 target. £15 from every print, £1 from every card, 100% profit from the Christmas cards, 30% from every Vivienne Apron..... and that's just the start! Head to the website to see the full range.
Thank you Lucy, you have brought such positivity in these challenging times.