In Memory of Alan Ging
29th Apr 2019

Alan Ging

1952 - 2019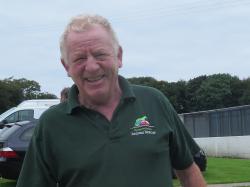 It is with huge sadness that we have to announce the sudden death of our Wingletang Centre Manager Alan Ging, husband of joint Manager Niki Ging and father of son Jamie and daughter Kirsty.
Alan was an integral part of Margaret Green Animal Rescue and was our longest serving employee, together with his wife Niki, both having joined the Charity on the 14th May 1994. A huge part of Alan's work involved training and building up the confidence of the dogs coming in to the centre.
Looking back at some of the particular rescues performed, Alan was frequently called upon to retrieve dogs abandoned cruelly on Dartmoor, often in appalling conditions. His knowledge of the area, and ability to deal with frightened and injured animals made many such rescues much easier. Only recently an emergency call to Dorset resulted in the rescue of seven pups aged 6 weeks, all of which were successfully rehomed after extensive rehabilitation and veterinary care.
As an experienced dog trainer Alan won many prizes competing with his black Labradors which are of Scottish origin. His excellent dog training abilities were then used to benefit all the dogs and staff at the centre, enabling thousands of dogs to be adopted as much loved family pets.
He was regularly called upon by Dog Wardens and the Police, and formed a very close working relationship with the local community and their animals. In partnership with Niki, who combines the same love of all animals with particular skills and experience of nursing care, they have been a formidable and completely united couple running our Wingletang rescue and rehoming centre for MGAR for both dogs and cats, and on occasions other species.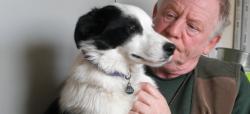 Neither can Alan's character be overlooked. One year he erected all the marquees for our annual dog show and mindful of the weather warnings tied them all firmly down. The weather was far worse than predicted and the marquees were blown across the surrounding fields during the night. Just 24 hours later they were all back in place and the Show went ahead as planned.
Alan was also a passionate Scot who never lost his roots. He insisted proudly on flying the flag of St Andrews over our marquees at every annual show which was a source of amusement to us all.
The Board of Trustees, two of whom have personally known and worked closely with Alan since 1994, express our admiration and grateful thanks for his significant contribution to the welfare of thousands of animals in the 25 years that he and Niki have together managed our Devon centre. Alan will be hugely missed by all who worked with him including our many volunteers, and of course those who have supported the many fund raising events at our Wingletang Centre over the years.
Matt Devereux – Trustee