Wrapped up with Love
9th Nov 2023
Could you give our rescue animals the love they deserve this festive season?
It's beginning to look a lot like Christmas, and we would love nothing more than to ensure our animals have the warmth and care around them that they need.
If you would like to bring joy to many rescue animals this year, whilst they await their loving forever families, then please join us in spreading the festive cheer this winter.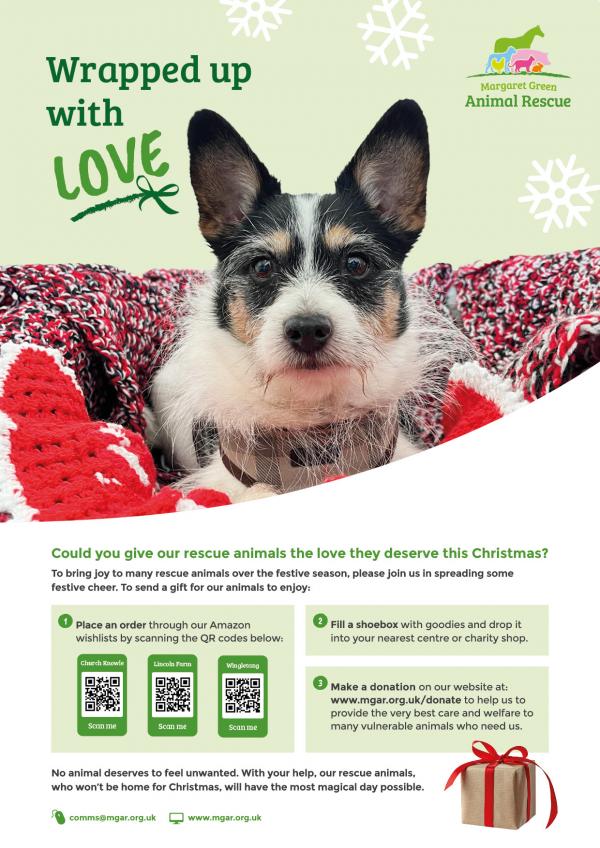 To send a gift for our animals to enjoy on Christmas Day, please take a look at our options below to make a truly magical difference.
Make their wish come true
If you would like to send a present directly to our door, you can do so by viewing each of our centres' Amazon wishlists, which include a whole range of goodies that will make our animals' tails wag and feathers flutter with delight!
Please click on the buttons below to discover our Amazon wishlists:



Wrapped up with love
If you would prefer to fill a shoebox with gifts for our animals to open, we would love for you to package up your thoughtful items and drop them into one of our rehoming centres or charity shops during their opening hours.
To see what kind of things our animals would like to receive this year, please click on the presents below to view our animals' wishlists!
Make a donation
We are so grateful for any donations that we receive, which enable us to provide the very best care and welfare to many vulnerable animals who need us.
If you would like to make a donation to help us give our rescue animals the warmth, shelter and care they desperately deserve, please click on the button below to help us get them back on their paws.

No animal deserves to feel unwanted, especially at this time of year
With your help, we can ensure that our rescue animals, who are homeless this Christmas, have the most 'pawfect' day possible.
If you have any questions about supporting our Wrapped up with Love appeal this festive season, please email: comms@mgar.org.uk and the team will be happy to help.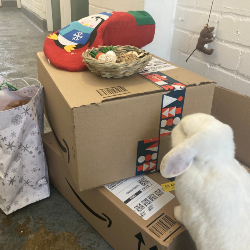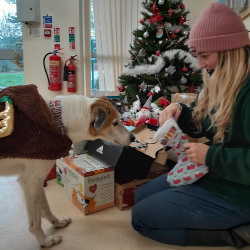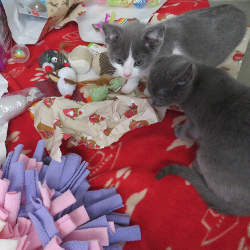 External drop-off points
We are so grateful to the following businesses for kindly offering to be drop-off points for your goodies and shoeboxes this year:
Hillside Veterinary Centre
116 Wareham Road
Corfe Mullen
Wimborne
Dorset BH21 3LH
Tel: 01202 698899
Natterjacks Vet - Bournemouth
1138 - 1140 Christchurch Rd
Boscombe East
Bournemouth BH7 6DY
Tel: 01202 427404
Natterjacks Vet - Poole
The Old Pub Building
Darby's Corner
2 Waterloo Rd
Poole BH17 7LD
Tel: 01202 051141
On behalf of all our four-legged friends, thank you for your continued support. We wish you all a wonderful Christmas!