Busking for Animals
6th Jan 2020

6th January 2020

We really do have some fantastic fundraisers who come up with some wonderful wacky ways to raise money for our rescue animals. One such fundraiser is Anthony Mosley and here's his story...

Busking for Margaret Green Animal Rescue

by Anthony Mosley

I thought you might like to know a little about where, how, why and what I do to raise a little money for what you do for the animals that you rescue.

As you know, this is the second year that I have gone out into the streets and played music to the good folk of Tavistock, with the hope of some of them putting a few coins into the collection bucket.

Firstly, let me tell you a little about myself and the music I play. I am not a professional musician, but have always played and sung music of different types, from church music to rock and roll and most things in between! I have sung with choirs and bands, on and off, throughout my life. In my youth, I have busked both on my own and with friends in different cities and once paid for a backpacking holiday by busking my way with a guitar around Europe. With just enough guitar, piano and violin skills I can turn out a variety of music on my own … if the audience has either had one or two drinks or alternatively isn't too discerning!! I love my music and although I would have liked to have done it for a career, perhaps, in reality, that may not have been so enjoyable.

What then, brought me to busking for MGAR? Both my wife and I are great animal lovers and have had several rescued or re-homed pets. At present we have Gertrude, an 11 year old rough coated Lurcher. I have visited Wingletang on many occasions and have encouraged several friends over the years to pay a visit when thinking about acquiring a dog or a cat.

As I have become increasingly more aware of the irresponsibility of some that should know better with regard to animals of all types and just how badly some people can treat animals - and subsequently the pitiful conditions in which these poor creatures are too often found - I wondered if there was anything that I could do to help.

What about busking for the animals, I suggested to my wife Sarah. She thought it was a really good idea and urged me to contact you lovely people and we got things underway. I was put in touch with Jazmin House, who I believe is in charge of all the fund raising and marketing for Margaret Green. After a chat with her, I went to Wingletang and collected the donations bucket and some leaflets. I was now ready to start.

Now you may think that busking is as simple as turning up and starting to play your instrument, or sing, or whatever it is you do … wel, no, it isn't quite a easy as that! Firstly, it is always a good idea to ask, if only out of politeness, those around you if it is OK to stand outside their shop or café to do your thing. Traders can be quite aggressive if they think you will put off their customers or interfere with their trade! Conversely, they can also be very encouraging and helpful if they take to you. I remember well busking in the old part of Nice in the south of France quite late at night. The music sounded wonderful, helped by the beautiful acoustics afforded by those old stone buildings in the flagstone square, when a bucket full of old kitchen waste was tipped from a window two floors above me. The message was simple – and I didn't need telling twice! Nearer to home, a therapy centre was playing calming music to their customers (again, two floors up) and felt my playing and singing might not have been helping! So you see, one needs to check out the people around as much as possible so that no-one gets upset. Also, some charities and the like seem to have established a sort of regular users' rights and they don't take kindly to finding a newcomer on their patch! No one wants a repeat of the Glaswegian ice cream wars between Christian Aid and Save the Children - if you see what I mean!

With everything all in order, in 2018 I busked on the last two Fridays and Saturdays before Christmas. Playing carols, show songs, pop tunes and some classics on the violin, I took up positions around Tavistock Market and also outside Superdrug and M&Co. The weather went from very cold to wet and windy, but passers-by put money in the bucket and many took leaflets. Incidentally, this was the first time that I had ever busked with just a violin. I thought the violin lent itself more to a Dickensian Christmas image, somehow, than anything else. Conversely, you have to be spot on because, as any musician will appreciate, horrible squeaks or playing out of tune or out of time just seem to scream out "what a bad player" … with a violin, there is no hiding place!

I met some lovely people from all walks of life and with all sorts of backgrounds who told me wonderful stories about the pets they have or have had. Some were tales of cats and dogs who, like old friends, had finally passed away, leaving their owners absolutely bereft. Others were of new and exciting homes just found for a young terrier or a kitten or an older larger dog with three legs and how proud of their new friends these owners seemed to be. On the whole, everyone was very kind and complimentary about my playing – although, as a performer, you always have to be prepared and able to take a few not quite so kind comments on the chin! It's all part of the job.

Interestingly, I also struck up a friendship with the resident Big Issue seller, called Neil. During the quieter moments, he and I would chat about our favourite songs and discovered that he has an extraordinary memory for show songs. We even did a little rendition of Reviewing The Situation from Oliver with Neil taking the vocals and me on violin!

Although I can't remember the exact amount, I think I raised around £250 for the charity in 2018. A result!

During the long summer days of 2019, I would think from time to time and ask myself, will I be doing it again this year … can I muster the effort and be ready? The days quickly passed and suddenly Christmas was nearly upon us. Without hesitation, I contacted Jazmin again at MGAR and said I would be up for it if they would like me to do it again. I arranged to get an official bucket, a pop up banner and some leaflets sent down to Wingletang. Amber is the young lady I tend to deal with there and as soon as everything arrived, I called in and she was there to give me all the bits and pieces. We were sorted and ready again for 2019! I also received a visit from another young lady Meg, who came and took some photos while I was busking … goodness knows what I must have looked like!!

This time, through a chance visit to Morrisons supermarket in the pouring rain (when actually I had planned to play somewhere else) I had an idea. If I played in the main street, I would get soaked, the music would get wet and it would not do a very old violin much good either. The likelihood would be that I would have to abandon the playing for that day. I asked if I could see the manager and a very nice young man called Dan arrived at the customer services desk. I explained what I was doing and asked if I could possibly play outside the store, but under cover, between the entry and exit doors. He was great and seemed to love the idea. He said yes straight away!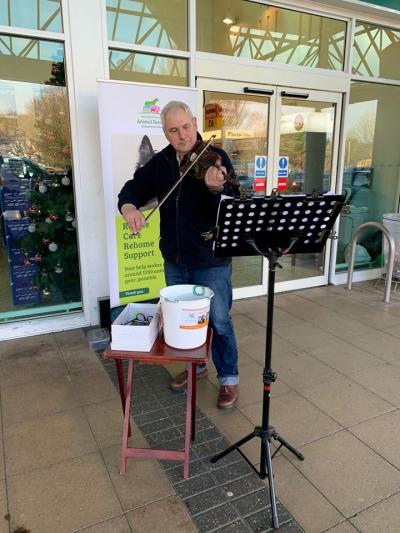 Given that the weather was lashing down with rain and blowing a hoolie, it seems the saying that every cloud has a silver lining is actually true in this instance. Everything started to go really well – people were making donations virtually non-stop and wanting to chat while I was actually playing. Sometimes, as you can see, it is a necessary chat and I will stop playing and talk, but I do try to say Happy Christmas and thank you for every donation, especially from the children who can be quite shy.
I realised that this site was a better position than one of my main street sites, so when I packed up, I asked about doing it again the following week. This needed permission from another person. The other person was a very friendly lady called Helen, the community co-ordinator, who was to be found on the hot foods counter. She was brilliant and thought the idea was great, especially as it was for animals. Apparently, the feedback had been very good and she said she would love me to come again – even to play in the store!! I obviously replied that I would love to play again, but I really didn't think it would work in the store itself. This time, however, I would also bring a guitar and sing as well as play carols and classics on the violin. The day arranged for me to play was the morning of Christmas Eve. It went brilliantly, with the festive season almost at its height, a really good cause to donate to and songs like Fairytale of New York and other Christmas songs floating out across the car park, it was just amazing. Sometimes there was even a small queue to put money in the bucket.
I don't know how much I have raised, but I am sure I must have exceeded last year, as the bucket is so heavy!
Again, everyone has been so kind and complimentary to me about the music and I have heard many more wonderful animal stories.
You know you can cry when you hear of the cruelty and mistreatment, but then again you can cry with happiness when you hear of the kindness, generosity and commitment given to turning around some of these once awful situations.
So, all in all, my four mornings will have hopefully raised enough to help some unfortunate animals find the love, warmth and shelter that they so richly deserve and a much better 2020.
Well, that's about all folks, as they say, except to wish everyone (humans that is!) who have helped contribute to these animals and to all the staff at Margaret Green Animal Rescue, a very happy 2020 from my wife Sarah and me.
Anthony raised an amazing £778.36! Which is a fantastic amount and will really help us care for our rescue animals this Winter.
If Anthony's story has inspired you in to thinking about setting up your own fundraiser then download our handy A-Z of Fundraising and our Fundraising Guide, which is full of useful information, ideas and ways to kick start your efforts.
A-Z of Fundraising download
Fundraising Guide download