Sponsor an Animal
Become a wonderful Animal Sponsor from £5 per month
Becoming an Animal Sponsor is a fantastic way to help the rescue animals at our Church Knowle Rehoming and Visitor Centre, and their friends across the organisation. You can choose which species you would like to sponsor from £5 per month.
You can even visit them during the centre's opening hours - click here for details.
This is a great opportunity to see how your monthly donation is directly making a difference, and to get to know the lovely animals you're helping us to care for.
Let us introduce you to our four-legged friends who are ready and waiting to become your new sponsor pals...
Mickey & Donald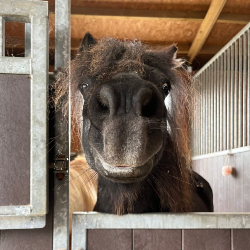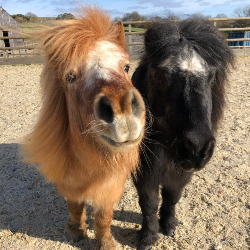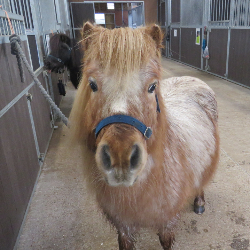 "Well, hello there! My name's Mickey (I'm the black pony) and this is my bestie, Donald. We're a pair of friendly Shetland ponies and we came to live at the centre in 2009. I often like to playfully tease my carers by messing about with my fly rugs. I'm not sure if they find this as fun as I do – although they do seem to chuckle at me! We can often be found relaxing in our stable or in our field, chasing our treat balls which are filled with tasty hard feed. Donald relies upon me a lot to guide him, as his vision isn't as good as it used to be, but he's my best friend so I like to help him to feel safe and happy. Your sponsorship will fund treatments like our hooves being trimmed and will supply some yummy treats for us to enjoy!"
Sid & Jake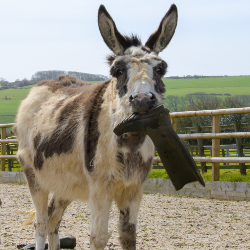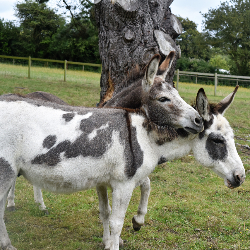 "Hi… We are Sid & Jake, the infamous donkey residents at Church Knowle! Our carers comment that you can often hear us before you even see us, as we like to bray to remind our visitors to come and say hello. We arrived at the centre in 2012 and we enjoy being a very cheeky pair of lads, that's for sure! We love getting up to all sorts of mischief and keeping our carers on their toes. We also enjoy popping our heads over the fence to keep an eye on everyone and to greet anyone that walks by, and making sure that jobs around the centre are being done to our satisfaction."
Thelma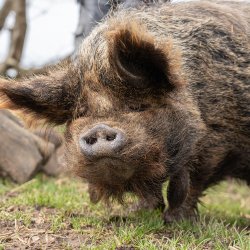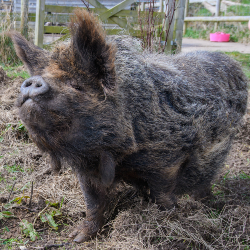 "Oink and snort… My name's Thelma and I am a super-friendly Kune-Kune pig, who many visitors call their favourite Church Knowle resident (although, I don't like to boast!). I arrived at the centre in 2010, after having been found wandering alone. However, I don't let my past get me down and, instead, I enjoy chatting away to everyone I meet. 'Inclusivity' is my middle name, and I like to live up to it by making sure every visitor has the chance to provide me with back scratches and ear tickles. My top favourite things include spending time in my wallow, snoring the day away in my comfy bed, and enjoying the tasty food my staff lovingly prepare for me throughout the day."
Eliza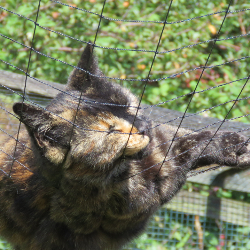 "Please let me introduce myself… My name is Eliza and I am a wild-at-heart cat who has decided to make my permanent home at Church Knowle. Although I arrived at the centre as a stray, the staff and I soon discovered that the cattery environment was just not for me. I was clearly going to be a cat who craved a rural way of life, and now I happily keep a wise and watchful eye on all the other animals and visitors. I particularly love having tasty treats from the staff here and sunbathing in my favourite hang-out spots around the centre, as well as spending time with my sweet friend, Bonnie, who is also a rescue cat living here."
Bilbo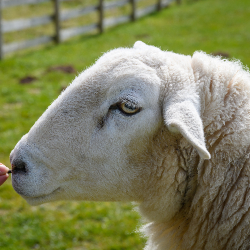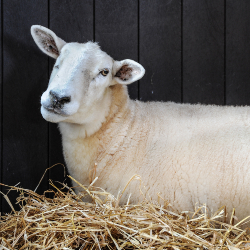 "Howdy! How are 'ewe'? My name's Bilbo the sheep, and I came to the Church Knowle centre after I was kicked by a horse and sadly lost vision in my left eye. Being a 'trough half full' sort of guy, I don't let my visual disability get me down. Even though I'm an older gent these days, I'm told that I still have the same cheeky personality I had when I was a wee lamb. I enjoy spending time with all my fleecy friends in the flock, munching on grass and taking in all the sights and sounds that the beautiful countryside surrounding Church Knowle offers. I believe I am known fondly for testing the staff here to see what I can get away with (and I have no intentions of stopping – Hehe!)."
Treating a fellow animal-lover?
If you would like to set up a sponsorship of our amazing animals as a gift for someone special, please contact our friendly team who will be delighted to help you:
Email: comms@mgar.org.uk or Tel: 0330 400 6670
To show our appreciation…
In return for your sponsorship, you will receive a letter & certificate, and a small gift, which will allow you to proudly display your wonderful commitment to helping us provide the best welfare to our rescue animals. Your chosen new pal - or pair of pals - will also love sending twice yearly updates to you, to keep you updated on their activities and to show how your donation is helping them to live their best lives at the centre.