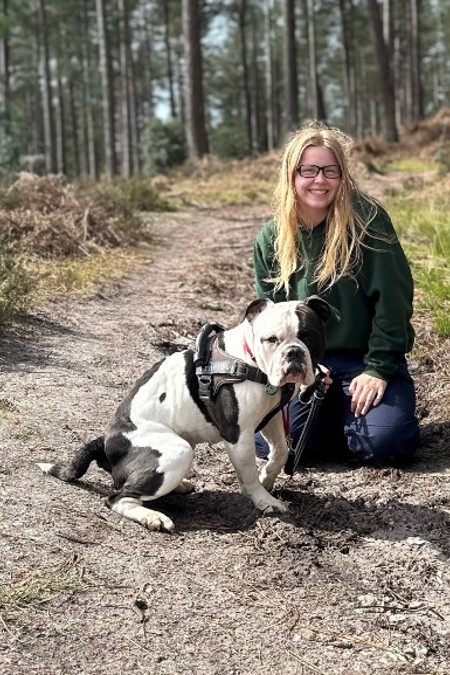 Name: Autumn
Breed: Bulldog X
Gender: Female
MGAR Reference: 52927
We would love to introduce to you, the beautiful and loving Autumn. She is a 2 1/2year old Bulldog who is best described as a playful and happy bull in a china shop when she is running around and having fun with her carers.

Autumn arrived as an unclaimed stray, she very quickly won the hearts of all of the team with her cheery attitude and her big personality for cuddles.

One of her favourite things to do is to go out for walks in the near by forest. She enjoys all the sights and sniffs and happily walks next to her other 4 legged friends on lead. Her level of fitness is pretty poor at the moment and it's clear that she hasn't used her gym membership in a while, we are hoping that her new family will build up her exercise tolerance so that she is able to enjoy longer walks to see all the different scenery that the world has to offer.

Another of Autumns huge loves in life is food, and because of this Autumn will need to have her waist regularly checked to make sure that she doesn't get overweight, much to her disgust. She definitely is not the sharing kind when it comes to delicious snacks.

We have noticed that Autumn is more comfortable around male dogs, so we feel that she would be best suited to sharing a home with a handsome chap or would equally be at ease on her own, getting all the fusses!

As Autumn is so unaware of her spatial awareness at the moment when she is excited, and is very OTT around food and treats, we would love to find her an adult only home whilst she learns some manners in these areas and the team are always on hand to go over some top training tips.
Head Office
Margaret Green Animal Rescue
Church Knowle, Wareham, Dorset BH20 5NQ
churchknowle@mgar.org.uk
Registered Charity Number: 1167990.
Licence holder: Margaret Green Animal Rescue
Church Knowle, Cat Boarding Licence issued by Dorset Council: licence number: 936.
Lincoln Farm, Dog Boarding Licence issued by Dorset Council: licence number: ABO005.
Wingletang, Cat & Dog Boarding Licence issued by West Devon Borough Council: licence number: WDLAIA07.
Finding Forever Homes
Sign up to our e-newsletter