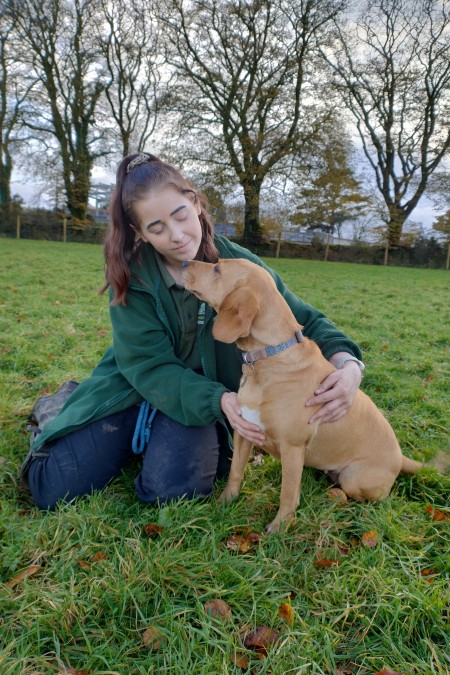 Name: Cali
Breed: Beagle X Cocker Spaniel
Gender: Female
MGAR Reference: 52701
This gorgeous girl is Cali, a 4 year old Beagle x Cocker Spaniel, who is searching for her forever home after her previous owners felt that she may be better suited to another household.

Cali is an energetic girl who would flourish in an active home, ideally as a canicross partner as she has been previously, as she thoroughly enjoyed this. Cali would also like something to keep her mentally stimulated such as scent-based enrichment where she can put her amazing nose to good use. Training classes would be another great opportunity to put Cali's brain to good use as well as being an excellent bonding experience for Cali and her new owners. This would also help Cali to continue making progress with her training that she has started here at the centre.

Cali very much enjoys being the centre of attention and we know from her previous home that she would be happiest being the only pet in future, so that she can have you all to herself. That being said Cali loves to socialise with her doggy friends that she has made at the centre and rolls around playing with some of her best four-legged pals in the field, so having regular dog walking buddies would make her a very happy girl indeed.

Although Cali is a lot of fun, she also has a sensitive side in that she does suffer from separation anxiety. This means that Cali struggles to be left at home by herself and sometimes this can be displayed as destructive behaviour, so she will need someone at home during the day to help her overcome her anxieties. In time Cali's new family may be able to build up some time with her being left for a short period, but will also need to be understanding that Cali may always prefer to have company in the home.

Cali is a lovely girl who could possibly live with older teens in her new home. If you would like to find out more about Cali please give us a call and we can discuss Cali further.
Head Office
Margaret Green Animal Rescue
Church Knowle, Wareham, Dorset BH20 5NQ
churchknowle@mgar.org.uk
Registered Charity Number: 1167990.
Licence holder: Margaret Green Animal Rescue
Church Knowle, Cat Boarding Licence issued by Dorset Council: licence number: 936.
Lincoln Farm, Dog Boarding Licence issued by Dorset Council: licence number: ABO005.
Wingletang, Cat & Dog Boarding Licence issued by West Devon Borough Council: licence number: WDLAIA07.
Finding Forever Homes
Sign up to our e-newsletter