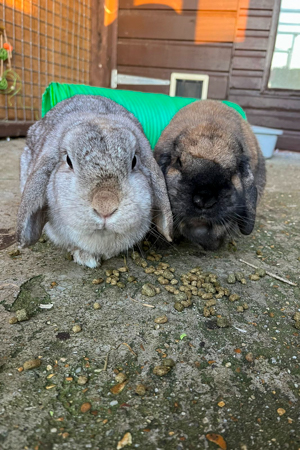 Name: Florence & Tiger
Breed: Lop
Gender: Female
MGAR Reference: 50528
We would love for you to meet the adorable, and lovingly-bonded Florence and Tiger. This gorgeous couple entered our care individually in the summer of 2021, after circumstances changed in both of their previous homes. It's super-important for bunnies to have companionship, so we trialled them spending time together, and they've been a completely devoted little husband and wife ever since.

We believe they would be at their happiest living in a home with plenty of space to play, hop and run around, and a sunny spot where they can rest and nap together.

We have noticed that Florence enjoys having a quiet space where she can go to relax and take time for herself, as the big wide world can seem a little bit overwhelming at times, so we feel that it would be important for her to have this special place in her new home too.

If you feel that you could offer this lovely pair the loving forever home they truly deserve, please get in touch and we will be delighted to tell you how adding them to your family will be a wonderfully rewarding experience.
You can find me in Dorset